CardMaker - November 2010
Thinking of You, Web Bonus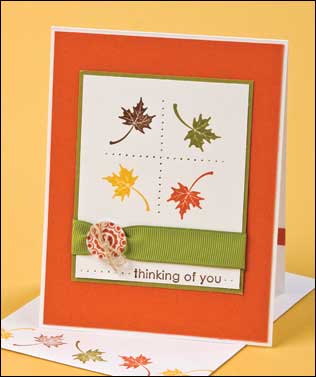 Using piercing tool and template, pierce two 2 1/4-inch-long lines of holes onto a
3 x 3 3/4-inch piece of white card stock as shown, forming four squares. Stamp a leaf in each square using a different-colored ink for each leaf.
Cards From Scraps, page 58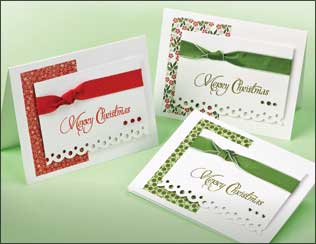 Sources: Card stock from Papertrey Ink; printed papers from Cosmo Cricket and Bella Blvd; stamp set from Verve Stamps; self-adhesive rhinestones from Kaisercraft; punch from Martha Stewart Crafts; scoring tool and template from Scor-Pal Products.